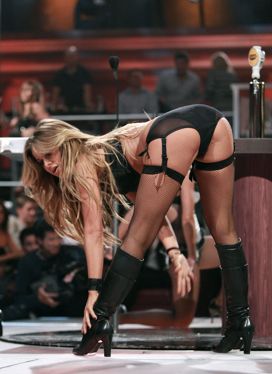 Carmen Electra was part of a mob scene in Montreal's downtown club strip, where she was hosting a burlesque performance at the Opera Nightclub.
There, the two-time Playboy cover girl was jetted in to introduce the "Belluscious" act. And while she wasn't actually going to be getting up to any sexual antics on stage herself, the crowd was eager to see if they could press the flesh with the former Mrs. Dennis Rodman.
"I'm just a girl from Cincinnati, Ohio, who had big dreams and managed to get here," she told the Globe, shortly before heading onstage. Born Tara Leigh Patrick (her stage name was supplied by none other than the artist currently known as Prince), Electra is also busy shilling her latest video, another entry in her hugely popular Aerobics Striptease series.
–click photo for larger version–