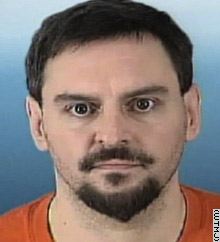 Headphones might have kept this from happening (and you may want to pick up a pair before you watch your next porn video). Otherwise, make sure you're prepared for a neighbor kicking in your front door and demanding, at the point of a weapon, that you show him where the screaming woman is.
Last week a Wisconsin man (shown here) pounded on and then broke down his neighbor's door because he thought he heard a woman screaming for help. He thrust a cavalry sword at the man inside, demanding to be told where the woman was hidden. The neighbor told police the man became increasingly aggressive as he repeated the question, insisting that he had heard a woman being raped. The complaint said that, with the sword pointed at him, the man made him open closet doors to prove he was alone.
Actually, the neighbor was just watching a porn movie on his DVD player. He even played for police the part of the DVD he believed the man must have heard. The man, who lives with his mother in a downstairs apartment, said he didn't call the police because he doesn't have a phone. He was charged with criminal trespass, criminal damage and disorderly conduct.
– Note to readers: Remember to think about who else can hear the audio from your porn collection, and if you think there could be a problem, either turn it down or get some good headphones (or at least your own sword).