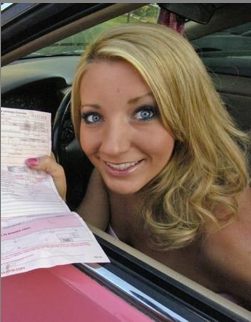 If you're a fan of blowjobs, anal sex, and [tag]interracial[/tag] hardcore fucking, then you probably recognize Barbie Cummings in this photo.
The 21 year-old pornstar is shown here in her pink car near her home in Knoxville, Tennessee, posing with a speeding ticket from a Tennessee Highway Patrol officer for driving 92 mph on a 70 mph stretch of highway.
But there may be more to this story. According to some of her blog posts (since taken offline), Barbie gave the highway patrolman a blowjob to avoid drug charges. There was even a mention of her having photos and videos of her sucking his cock, sent to her courtesy of the trooper.
If you want to read more about the story, just click the link for more below. You can also see Barbie in the kind of hardcore sex we'd rather see on two of her promo galleries we found:
Barbie Cummings at Throatjobs and Barbie Cummings at Racks & Blacks