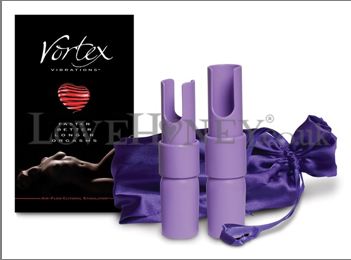 This new sex toy, called Vortex Vibrations, connects to a vacuum cleaner to give a woman an orgasm in just ten seconds. Inventor Joanne Drysdale, a mother-of-three, says it concentrates the air flow to create a rapid but gentle vibration, and can give multiple, back-to-back orgasms lasting up to a minute a time, without ever touching the skin.
Joanne was cleaning her carpets when she came up with the idea after seeing how a piece of rubber caught in the nozzle was gently resonating in the airflow, and noticing the stimulation on her fingertips as she tried to remove the rubber. "After several hours, I came up with the prototype. The first time I tried it I reached an orgasm within 10 seconds, said Joanne. "That was when I knew I was on to something that could potentially bring pleasure to all women."
The Vortex is available from the LoveHoney store, which unfortunately only demonstrates it on a balloon in this video.