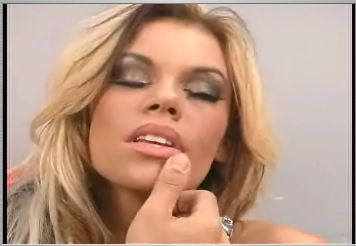 Today's video clip is from the members area of The Fetish Club. Inside their Video Theaters they have a huge section of feeds called "The Abyss" because it has a nearly bottomless collection of videos. One of the monthly features there is the "Cyberfold Girls."
I liked this clip because to me it shows how sensual it can be just to touch a woman's face. And how much some women like being touched, even if it's just their face you're touching. Fortunately this clip is just the beginning of the massage. From her face he moves down to her neck, shoulders, breasts, and her belly. Her feet get attention, her thighs, and of course her sweet pussy does too.
[tag]Cyberfold Girls[/tag] are sort of like the pet of the month, but with more sex thrown in to complete the picture. Gia shows off all her assets and then gives you a choice of toys for her to play with. In her interview Gia says she'd like to fuck Steve Colbert, and we're warning him that this little Miami hottie is one serious chick. She admits she once gave a hot guy vodka shots while she drank water, so he wouldn't put up a fight later.
If you're already a member of The Original Fetish Club, just head over now and login now to check out Gia. If you're not a member yet, you can take the tour here.