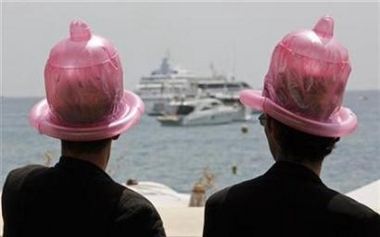 A thrill-seeker killed himself by pulling a condom over his head to try to give himself a sexual high, an inquest has heard. Gary Ashbrook was discovered naked on his bed alongside three empty cans of nitrous oxide he used to blow up the contraceptive. 

The 31-year-old had been experimenting with the drug, also known as laughing gas, with friends he had met online, said housemate Michael Young, who found his body. Mr Young told the inquest: "He had been putting a condom on his head for two to three months. He learned this through some friends of his for sexual gratification."
The housemates spent the previous evening eating pizza and watching the Eurovision Song Contest on TV with friends at their home in Newhaven, East Sussex. Friend Paul Beaton said: "I knew he was into the sadomasochism bondage scene. I'm sure this was an accident."
A post-mortem examination revealed that Mr Ashbrook, who had been HIV positive for seven years, died from asphyxiation. East Sussex coroner Alan Craze, recording a verdict of death by misadventure, warned against the dangers of taking nitrous oxide. He told the hearing at Eastbourne magistrates court: "If people use nitrous oxide, in the same way as any other drug, and it is abused, it carries with it considerable dangers."