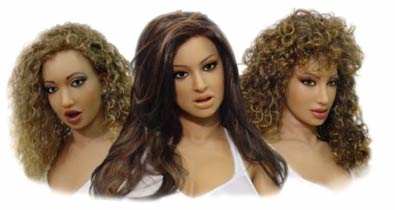 We mentioned the Real Doll here last year when we wrote about the "Doll Experience Rooms" in South Korea that provided them to their patrons. Well, now there's a mainstream movie that features one as the lead actress.
"Lars and the Real Girl" also stars Ryan Gosling, as Lars, but the movie wouldn't be getting so much attention without his lifeless co-star. In the film, which opens next month, Gosling plays an emotionally troubled misfit who mail-orders a Real Doll — an anatomically correct female doll made from high grade silicon crafted over an articulated skeleton — for companionship.
Once his doll arrives, Lars introduces her to his increasingly uncomfortable family and friends, transporting his new "girlfriend" Bianca around town in a wheelchair. No one knows what to say to Lars or Bianca — because she is a life-size doll, not a real person and he is treating her as though she is alive. Lars' family talks with a doctor who advises them to go along with his delusion. I think you can imagine what kinds of madness that might lead to.
Click the link below for the rest of this post, which includes movie details and trivia, more information about the Real Doll, plus links to movie trailers and Real Doll photo galleries.
"Lars and the Real Girl" is from Six Feet Under writer Nancy Oliver, who says the concept for the film stemmed from a dark and mysterious place. "I had a weird job once where I came into contact with a lot of perverse websites and lonely guys," she explained, refusing to say what the job was, "and I kind of took it from there."
Gosling says he was more drawn to the emotional aspects of a Real Doll relationship. "The idea that you can love something that doesn't love you back … that it can be real without being reciprocal," he said. "I thought that was really powerful."
Trivia note: To help Ryan Gosling stay in character, the Real Doll was treated like an actual person, as is done by the characters in the movie. She was dressed privately in her own trailer and was only present for scenes that she was in.
Movie trailers: standard or high-definition.
Real Doll photo galleries: Kaori, Britney and Mellisa dolls
High-tech 'love dolls'
Mainstream fascination with Real Doll subculture — fans are sometimes called iDollators — seems to be growing. Motley Crue's Vince Neil showed off his Real Doll on an episode of MTV's Cribs. The dolls made repeat cameos throughout a recent season of ABC's Boston Legal, and one was once fashioned to look like actress Kelly Carlson for an episode of the F/X program Nip/Tuck.
Late last year, Howard Stern spoke on-air about his personal encounter with a Real Doll, and plans to name a second doll after controversial The View co-host Elisabeth Hasselbeck.
The dolls are also the subject of a fascinating 2006 British documentary "Guys and Dolls," which follows four men in the U.S. and Britain, each who own their dolls for different reasons. One British man takes his doll out on day trips to the coast where she watches him hang-glide. Another owner explains he prefers the security of his inanimate girlfriend over unpredictable, potentially cruel treatment he could be subject to from a real woman. An young American man gives his doll daily massages in the home he shares with his disapproving Mom and Dad. Mike, a Texan, risks a real-life relationship for his eight dolls which he shares his eight synthetic lovers with his human girlfriend.
The documentary also takes a fascinating look inside the San Diego factory where the dolls are made. There, Abyss Creations has been manufacturing Real Dolls at a rate of six to eight each week for more than a decade. What Abyss makes are high-tech versions of "love dolls" dating back to Second World War, where they were introduced by the Japanese and Germans to help their soldiers cope in an all-male environment.
The company, which did not respond to requests for interviews, has reportedly sold more than 3,000 of their dolls — which now sell for $6,500 each — worldwide.
Most of the products on the site are marketed to men, although the company does offer a male Real Doll for women. The company says its dolls are sold for sex and/or companionship, but also for many other reasons: They count futurists, artists, art collectors, photographers and those in the forensics and medical communities as customers.
–
Related post: "These aint no pussycat dolls" - In South Korea you can rent a bed, a computer. and a well-made rubber sex doll for 25,000 Won (just over $26 US).
---
(content tags:  commentary humor movie reviews photos Real Doll sex toys video clips)