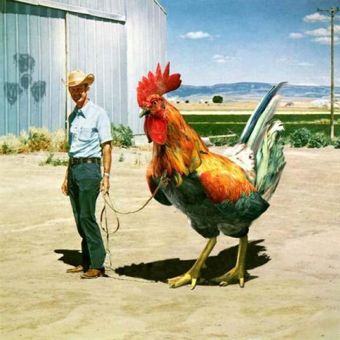 Condom and cock sizes, circumcision, blue-balls, cock color, shoe sizes, masturbation, limp dicks, and the seam on a cock. Here some more interesting dinner table conversational tidbits for your quoting pleasure.
1. Only six percent of the male population needs extra-large rubbers, according to condom manufacturers. In other words, 94 percent of men lie about cock size.
2. The study most trusted by urologists shows that the average erect cock size is 5.1 inches long and 4.8 inches in girth. Unless you're in a chat room. Then you can figure that every man there has a cock twice that size.
(those first two facts inspired the "Man with Large Cock" photo above)
3. About 80 percent of American men are circumcised, even though the American Academy of Pediatrics says it's not medically necessary. No word on why men want to cut off part of something and then exaggerate its size later on.
4. Men really do get "blue-balls." Technically called "prostatic congestion," the achiness in the testicles is caused by "trapped" blood. And yes it's true that a nice orgasm will definitely relieve the congestion, and the ache. But doctors say a warm shower or aspirin will also do the trick.