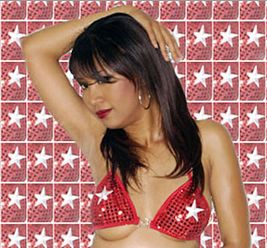 The Mattel toy company has filed a lawsuit against porn starlet China Barbie because they say that her use of the Barbie name on her website is hurting their doll's clean-cut image.
Mattel's lawsuit, filed in Manhattan, claims Ms Barbie has tried to benefit from Mattel's success with the 48-year-old line of dolls. They claim that China Barbie's appearances in movies like Me Love You Long Time (and Me Love You Long Time 2) and others, are damaging to the good name of their doll.
The lawsuit said Mattel had registered its trademarks to protect the Barbie line of dolls and the $1.6billion in sales it generates. Mattel said it has sold more than 1 billion Barbie dolls worldwide and a typical American girl owns eight of them.
Mattel co-founder Ruth Handler created the Barbie doll in 1959 after discovering her daughter Barbara preferred to play with paper cutouts of adult female fashion dolls rather than baby dolls.