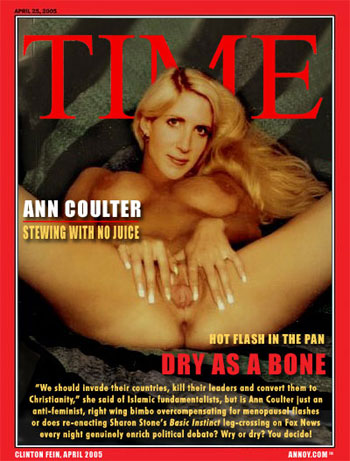 I saw the headline "Ann Coulter's Ugly Crack" used on CNN this morning and I just knew their story wouldn't be using this image so I wanted to post it here for you to enjoy.
If you've watched the news, you know that the CNN headline is actually referring to the comment Ann Coulter made about Democratic presidential candidate John Edwards. Below is the text of her remarks.
"I was going to have a few comments on the other Democratic presidential candidate, John Edwards, but it turns out that you have to go into rehab if you use the word 'faggot,' so I'm – so, kind of at an impasse, can't really talk about Edwards, so I think I'll just conclude here and take your questions."
Following her comment, the New York Times contacted her and reported that she responded, in an e-mail, "C'mon, it was a joke. I would never insult gays by suggesting that they are like John Edwards. That would be mean."
Okay, that's the end of politics for today. It's too nice a day here to worry about the end of the world. So my suggestion is either go out and enjoy the day or check out some porn. Whatever works for you.