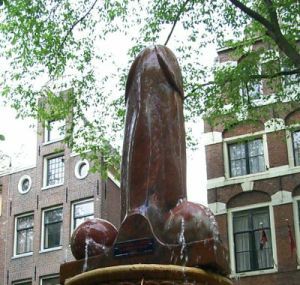 The rock hard cock & balls fountain in front of Amsterdam's famous Casa Rosso will be getting some competition soon. Near the end of March, the red-light district there should see the unveiling of a bronze statue designed to honor [tag]prostitutes[/tag] around the world.
"In many countries, prostitutes struggle and people have no respect for them whatsoever. The statue is meant to give all those men and women strength," said Mariska Majoor who commissioned the statue. Majoor is a former prostitute who is best known for founding a center of prostitution in the city a decade ago.
The statue will be forged by sculptress Els Rijerse, and shows a woman who confidently looks out into the world, "a self-assured woman, her hands on her hips, looking sideways towards the sky, and standing on a doorstep," according to the Dutch news agency ANP.