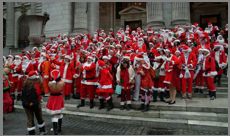 If you haven't heard about the SantaCon events, you may want to check out the official site to see what happens near you. From our sources, the basic idea is that about 100 people dress up in Santa costumes and then go from bar to bar and get as drunk as they can. Once everyone is pretty well smashed, the Santa mob "besieges local shops, hassles tourists, and sticks their tongues down each other's throats."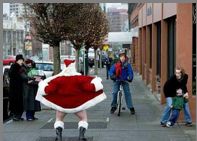 These events happen in about 50 cities around the country and the world. This year we got one report that the Mounties in Canada were called after a rowdy gang of 100 tipsy Santas caused mayhem at the Metrotown Mal, near Vancouver.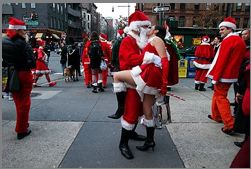 Evidently the Santas were carrying a gasoline container full of what was described as 'a pungent mix of holiday cheer'. You can see some photos of the Vancouver group here.
There's also a long blog entry with lots of photos of the San Francisco event from a few years ago here.
The Cheap Suit Santas use a variety of altered Xmas Carols which they bellow loudly to annoy one and all. Favorites include Cannabis is Coming to Town, Chipmunks Roasting on an Open Fire, Deck My Balls, Frosty the Cokehead, Huff the Nitrous Angels Sing, Oh Come All Ye Perverts, and Walkin' Round in Women's Underwear. You can read the lyrics for these and others here and here.
We hope your holidays have been fun too!