Sure, we may see some pretty rough stuff in the porn that's out there today. Gangbangs, double-anals, gagging, bukkake, and a bunch of other things that you might not have seen in porn from the 1940s. But one thing that we don't do to our women today is suggest that shooting Lysol up their hoo-ha is a damn fine idea.
Check out the little collection of vintage ads linked below to read how this idea was sold to women. They were told thier husbands were going out at night without them because they were neglecting feminine hygiene and that Lysol was both safe and gentle to use as a douche. They were told that using Lysol would help her stay young and healthy. And they were told that "often a wife fails to realize that doubts due to one intimate neglect shut her out from happy married love."
You can click on the small images below to open larger versions of these ads in a new window.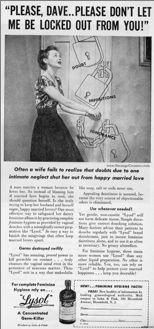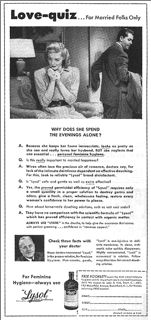 Actually, there is a little more to this story, which you can read by clicking the link below for the full posting on this.
---
(content tags:  bukkake commentary double penetration humor photos sex news)